Lilies are perennial plants that are popular all over the world. These are available in all sorts of colors, sizes and shapes. Being diverse in nature, these can be seen widely in flower shops, gardens, hotel rooms and also in the wild. Lily is admired because of its fabulous scents, class and colorful nature. The term lily means 'forever in love' in Chinese.
This perennial plant has more than 100 different types and the numbers are still growing. Lilies are frequent in Europe, India, Philippines, in the northern regions of Mediterranean, United States and Southern Canada.
Lilies are classified into two main varieties: Oriental variety and Asiatic variety. Oriental variety sprouts during the late summer. This variety has a powerful, pleasant and gentle scent. The flowers of oriental varieties are large with rich perfume. The apt example of oriental lily is of Lilium Stargazer.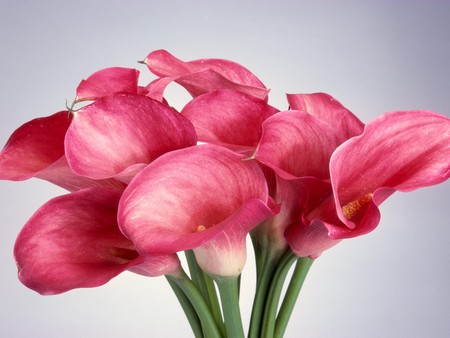 The Asiatic varieties are known to hybrid varieties developed from the Asiatic species. Asiatic varieties sprout in early summer. Asiatic varieties are strong and sturdy and require a well drain soil to flourish. These varieties are found in several different colors.
Different Types of Lilies
Lilies are the flowers which are widely used across the world for different flower arrangements and bouquets. These are perhaps the favorite flowers for women who still demand to have lilies in their wedding flower arrangements. Following are given some of the different types of lilies.
Asiatic Hybrids – Horticultural Division 1
Asiatic hybrids are most easy to grow as you can grow them anywhere. The Asiatic hybrids sprout in the early summer. Another important feature about these lilies is there diverse colors. These are found in variety of colors such as pink, white, red, plum, yellow, and orange. Asiatic hybrids usually have flowers that are upfaced, outfaced, and ornamental. The blossoms are often not perfumed.
The division 1 hybrids species are a consequent of species like L. tigrinum, L. cernuum, L. davidii, L. maximowiczii, L. x macultum, L. x hollandicum, L amabile, L. pumilum, L. concolor, and L. bulbiferum.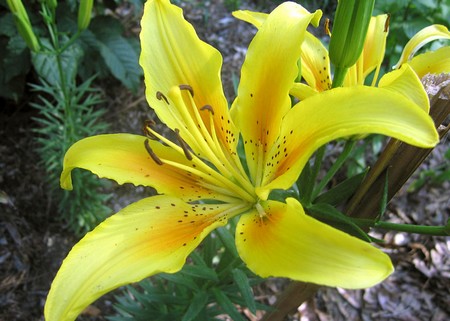 Martagon Hybrids – Horticultural Division 2
Martagon or martagons hansonii hybrids also bloom in the early summer. Martagon hybrids are tall lilies having several small-sized down-facing blossoms and spiral shaped foliage. These lilies flourish well under the shade and are used as a decorative flower in the woodland gardens. These lilies are found in several colors such as yellow, white, deep dark red, lavender, light orange and pink. Martagon hybrids take some time to adjust in the new environment and after that they flourish for years.
The division 2 hybrid lilies developed from the species like L Martagon, L hansonii, L medeoloides, and L tsingtauense.
Candidum Hybrids – Horticultural Division 3
These hybrids are very rare and you cannot find them easily as these don't include a large number of species. These hybrids developed from the species like as L candidum, L chalcedonicum, L monadelphum, and some other associated European species.
American Hybrids – Horticultural Division 4
American hybrids are indigenous to western America developed from some northern species. These are fabulous, pretty and elegant lilies. Their bulb comprises of several little jointed scales and the flowers shape like a bouncy bright balloons hanging on a swinging, curved stems. It is quite hard to grow the American hybrids somewhere other than western United States and Canada. These lilies thrive well in cool light soil and dappled shade.
The division 4 hybrids developed from North American species like L pardalinum, L humboldtii, L kelloggii, and L parryii.
Longiflorum Hybrids – Horticultural Division 5
These hybrids are not sturdy and also not demanding. You can grow them easily in your garden. These are usually white trumpet. The division 5 hybrids developed from the species like L longiflorum and L formosanum.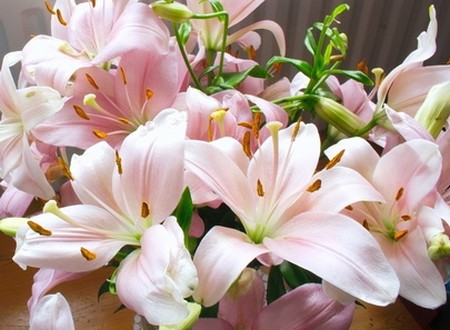 Trumpet and Aurelian Hybrids – Horticultural Division 6
Many people still believe that a real and true lily must be a trumpet. Well! They are quite right in saying this as there is no other plant in a garden that is tall, splendid, tranquil and glorious having large perfumed blossoms than lilies. Also, they are available in variety of colors like white, bright gold, yellow, apricot, plum, pink and chartreuse. Even some are available in brown, purple or shining green.
Aurelian hybrids include a popular Lilium henryi in their family origin. It is a coarse species having tightly curved orange or yellow blossoms.
The peak season for the Trumpet and Aurelian hybrids is from mid summer to late summer. They usually bear huge flowers. You have to provide them mulch in colder regions and also they require protection against the spring frosts.
The division 6 hybrids developed from the species like L luecanthum, L regale, L sargentiae, L sulphureum, and L henryi.
Oriental Hybrids – Horticultural Division 7
Oriental hybrids are colorful lilies which are demanding. You have to take a lot of care of them, mainly in the hot climatic regions. These lilies are often referred to as 'Stargazers'. The oriental lilies have a strong scent with large blossoms which are found in crimson, pink, white and salmon shades. These lilies required a lot of hard work as they require a slight shade with humus rich soil (mildly acidic), mulch and a lot of water.
The division 7 hybrids developed from the species like L auratum, L speciosum, L nobilissimum, L rubellum, L alexandrae, and L japonicum.
Miscellaneous Hybrids – Horticultural Division 8
Miscellaneous hybrids are the lilies which are derived from the crosses between the divisions. For instance, the Orienpets is an apt example of the cross between the Division 6 (trumpet & aurelian) and Division 7 (oriental). Orienpets are the lilies that everyone can wish for to have in their garden. This lily unites the feature of oriental variety with the trumpet and aurelian variety. Oreinpets get a shape and color from oriental and roughness and steadiness from the trumpet and aurelian. Orienpets lilies have a good resistant against the colder conditions and flourish well in summer season.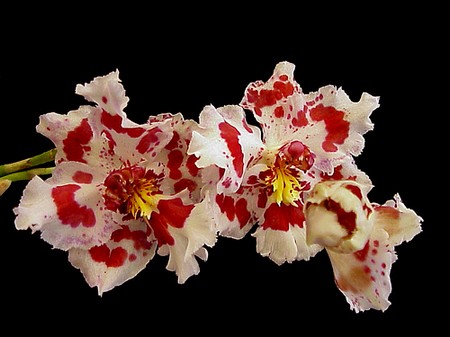 Species – Horticultural Division 9
These are actually wild lilies that grow in wild. These wild lilies are commonly found in North America, Asia, Japan, China, and Burma. It is these species lilies which are accountable for giving us splendid hybrids. There are so many species lilies which fascinate the people with their charm. However, not all the species lilies are easy to grown as some of them are quite challenging and demanding.
For plant lovers, lilies are perhaps the most right choice which is easy to grow and will bring colors to their garden.