Community is a term which is defined as a body of people living in any particular area or country sharing the same rights, interests, privileges, or living under same laws when taken as group. However, in this article we will focus on online communities, i.e. virtual communities. In this article we will have a brief look at three different community models. Although, they seem much more of a theoretical type, these can be used in several real projects as well. It is for this reason, these can be used as valuable tools to summarize and thrash out the innumerable problems, which communities normally throw at the hosts to rectify. The three models we will discuss here are not necessarily sequential. However, all the three models are associated with some sort of 'facilitation' styles which are devised to facilitate the people and are quite effective.
Centralized Community
Centralized community is a conventional sort of online community wherein a distinctive boundary is set in by memberships and concerned logins. It can be any website or a closed Google group which cannot be accessed unless a user log in.
The set boundary keeps the information within the limited area and those who are not yet the member of the website cannot go through that information. This type of communities are solely based on membership and who are keen to log in to that particular website and follow the rules and regulations set for the community and are 100% devoted to that community.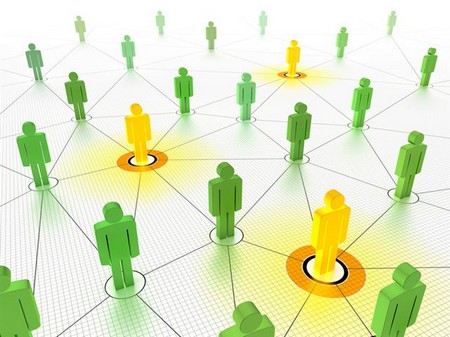 We can say that this is a strong community model having several benefits and plus points. Privacy is always been a great issue for many and they surely don't want others to intrude in their matters and hence login is a great way to keep things hidden. This model has been working since 1997.
As this model needs 100% attention from the members, this attention has been distracted by the development in technology. Due to this distractive factor, centralized community models are under great stress.
Decentralized Community
The decentralized community model, though having boundaries like centralized community, but it is not as strict as centralized one. This community model is penetrable. The most apt example of this community is perhaps that of CILIP communities. The other relevant communities may include blogging platform and stuff which lately unshackled by the Foreign Office. Another common example is that of innovation Exchange.
There is a tendency of information flow in this type of community where information passes through the boundaries to or from the members of other spaces such as blogs, or social networks. However, still there is an element of privacy in this community.
This community allows the people who don't even have the membership to take part into the community without logging in to the central community. This community doesn't require 100% participation or attention from the members or non-members. As a matter of fact, decentralized community encourages their members' participation in other spaces with a blend of social and technical actions, to say external facilitation and RSS aggregation.
Decentralized community is known as the practical and realistic approach which not only lined up with the distributed nature of people but also gives you some explicit and lucid engagement policy for other social or technical spaces.
Distributed Community
This is the third type of the communities which has become very common on the web. In this type community, the overseers of the community take the web as a general podium where several networks along with their interrelated behaviors and actions. It is very different to centralized community where every member has to behave and act under a controlled manner.
In distributed community, the boundary is determined by a brand usually a concept – an abstract ideas which are characterized by a keyword. This keyword is then made public by utilizing several services. For instance, CILIP is often tagged in delicious and technorati which is a common group on Flicker and a channel in YouTube.
The member in the distributed community has the authority to communicate with other community members the way they want. There are no confined or controlled rules to follow or behave in a particular way. One can express him in his own in several web-based podiums.
An important aspect of this community is that it not only let us to use any appropriate tool for communication, it also understands that not all the people are same, i.e. having same interests. It understands that some people like to chat, some like working on blogs, and so on. This makes this community really on top.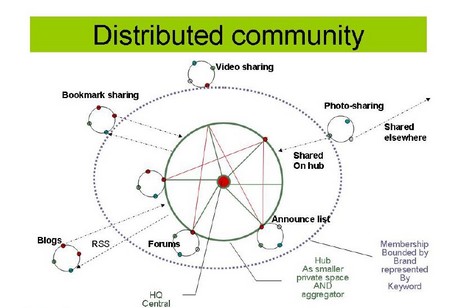 So, What Does This Mean?
Well! The time we are going through is something where everyone is into collecting different sort of knowledge and sharing it with others. Though, we are late in realizing but we make it through after years of web development and knowledge management that knowledge doesn't help us until it is confined in a box but if we share it with others, it not only expand but also brings some innovative ideas through distributive activities.
The centralized communities are based in the fact which is quite useful in the early life of web where people are not aware of their limitations and restrictions. Now everyone is well aware of his limitations and hence have a good control over them. They can now without any problem or hesitation share and expand their ideas, views and knowledge by interacting with other people and members of multi-spaces on web.